Current exhibition : "20 years of acquisitions"
From 12.01.2019 to 14.07 2019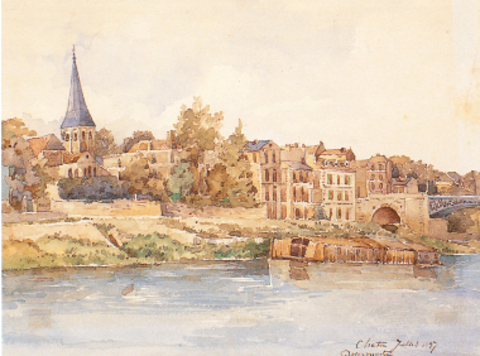 The museum opened in 1992, but the last twenty years were particulary rich in matter of interesting aquisitions. The exhibition shows how, with the help of time, the collection slowly came to what it is now.
The Maison Fournaise is known to be an imporant place of artistic remembrance, but it also is a centre of research on the 19th century leasure, particulary boating, and on landscape painting by the Petits Maîtres des bords de Seine. It is these two themes that directed the acquisitions policy for twenty years. Some of them are remarkable : a Bronze by Renoir and Guino, four works by André Derain, three original letters by the famous writer Guy de Maupassant....Moreover the collection holds a lot of documents and about forty paintings by other artist, now left in oblivion, but chosen for the quality, the softness and the delicassy of their brushstroke.
The artworks have stories to tell. One might have been owned by Mr Fournaise himself. Another one was found in an attic. There is even one coming back from Autralia !
Supported by researches, productive encounters and the donor's generosity, the collection of the Museum has blossomed over the years.
Opening:
Wednesday, Thursay, Friday : 10:00 am - 12h30, then 2:00 pm - 6 pm (5:30 pm from january to march)
Saturday, Sunday : 10:30 am - 1:30 pm, then 2:00 pm - 6 pm
Guided tour (in french) every sunday at 3 pm
Guided tours in english for groups on reservation
Free audioguide in english available online and at the Museum reception.